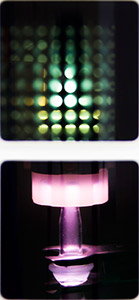 Innuovo Magnetics sticks to the idea of "No Innovation, No Future", not only attaching importance to R & D innovation, but also actively seeks cooperation with the external professionals. Our company has a whole R & D line of material, processing and electroplating, covers 8,000 m2, dedicated R & D equipment invested more than 5000 million. There are more than 50 full-time R & D personnel, and other advanced detection equipment like scanning electron microscope, High and Low Temperature Humidity Chamber.
Innuovo Magnetics cooperates with the industry's well-known universities, and professional institutions. Our company has established a "Zhejiang University -Innuovo New Material R & D Center" with Zhejiang University. Moreover, has also established a "High-Performance NdFeB Permanent Magnet Material Engineering Center" with Ningbo Institute of Material Technology & Engineering, and "Rare Earth Permanent Magnet Materials Engineering Technology Center" with Iron & Steel Research Institute. Our company has a "Jinhua City Academician Workstation", named "Provincial Enterprise Research Institute."
Innuovo Magnetics has assumed the national, provincial and municipal key industries or R & D projects. That is the "Annual output of 500 tons based on grain boundary's reconstruction of high-performance NdFeB magnets industrialization" was included in the 2012 national rare earth industry adjustment and upgrading special projects, "High orientation degree and high-performance NdFeB key production technology R & D" was also included in the 2010 national rare earth special R & D projects, "Annual 700 tons output of low-cost high coercivity NdFeB permanent magnet industrialization" was included in the 2015 national industrial transformation and upgrading projects, with "High-performance low-cost high-abundance rare earth's permanent magnet material R & D " project was included in Zhejiang Province key R & D projects in the year 2017; "High-strength alloy manufacturing technology" was included in the national "135" army equipment pre-research project; (NdFeB grain boundary structure and low-cost high-performance magnet production key technology) won the second prize of national invention (deleted once), N38EH NdFeB magnets, N45SH with high coercivity NdFeB rare earth's permanent magnets and other six products have been identified as the national key new products.